How to bookmark and view folders
With Markfolder, you can bookmark tweets and organise them with folders. For now you can only bookmark using Chrome or Firefox browsers. Support for more browsers and mobile apps are coming soon.
Contents
---
Installing the Markfolder Browser Extension
If you haven't installed the Markfolder extension, please install it first:
Back to top
---
For Chrome users: Adding Markfolder to your toolbar
After installing the Markfolder extension on Chrome, the Markfolder button will be hidden behind a "jigsaw puzzle" icon on your browser.
You'll need to pin the Markfolder button so it'll be accessible to the right of your address bar. Here's how to pin the Markfolder button:
Click the Extensions button (the jigsaw puzzle icon)
Next to Markfolder, click the pin button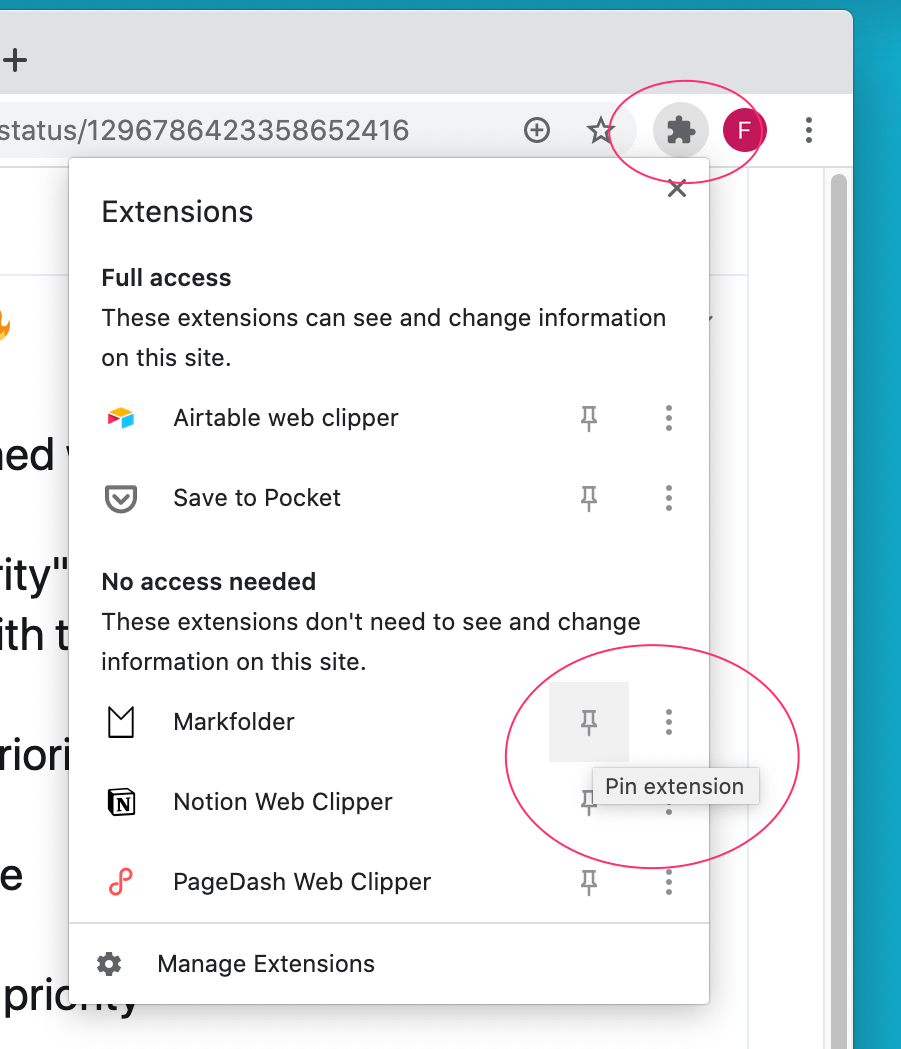 You'll should now see the Markfolder button to the right of your address bar.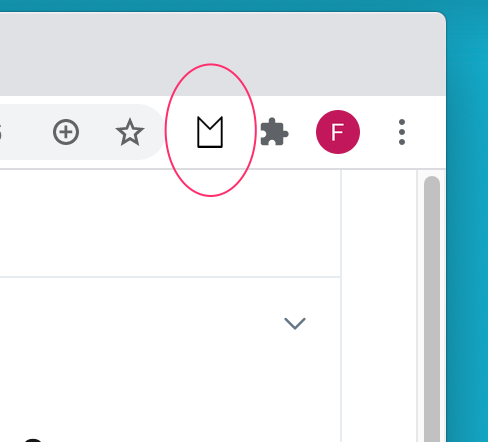 Back to top
---
Bookmarking a tweet
When you're a tweet that you'd like to bookmark, first click the tweet to load it on its own page (you'll see the address as https://twitter.com/username/status/....).

Then click the Markfolder button to bookmark it.
Click "Save bookmark" to save it to the selected folder (it remembers the last folder you used), or select a different folder before saving.
You'll be notified that the tweet has been saved.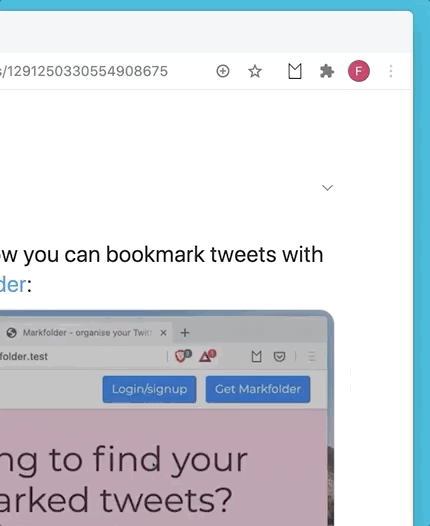 Try it out now: open this tweet in a new tab and bookmark it to your "Bookmarks" folder. Return to this tab when you're done. (You can delete the bookmark later.)
Back to top
---
Bookmarking to a new folder
You can also create a folder to save the tweet to, by selecting "Create new folder..." , typing in the new folder's name, and then clicking "Save bookmark".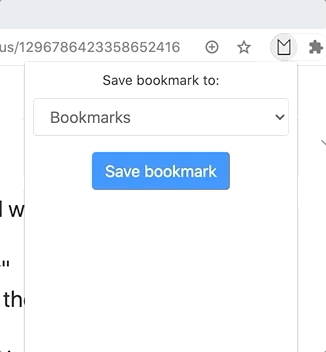 Back to top
---
Viewing your folders and bookmarks
You will find your list of folders by clicking the folder icon in the header. From your folder list, click on a folder name to view bookmarks in that folder.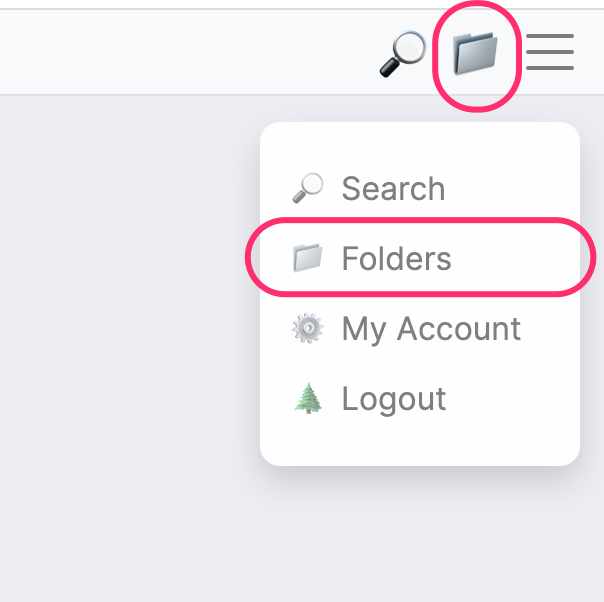 Back to top
---
Viewing the full tweet
To view the bookmarked tweet on Twitter.com, click the 3 horizontal dots to the right of the author name, then click on "View original".

Back to top
---
Deleting the bookmark
To delete the bookmark, click the 3 horizontal dots to the right of the author name. Then click on Delete.
Clicking the 3 dots first prevents you from accidentally clicking delete. Click the 3 dots again if you don't want to delete.

Back to top
---
Keyword search (Pro feature)
You can search for bookmarks using keywords. Just click on the magnifying glass 🔎 icon in the header to go to the search page.
In the search page, type in the words you want to search for in the box and press Enter to search.
To search for exact phrases, use quote marks, e.g. "book recommendation".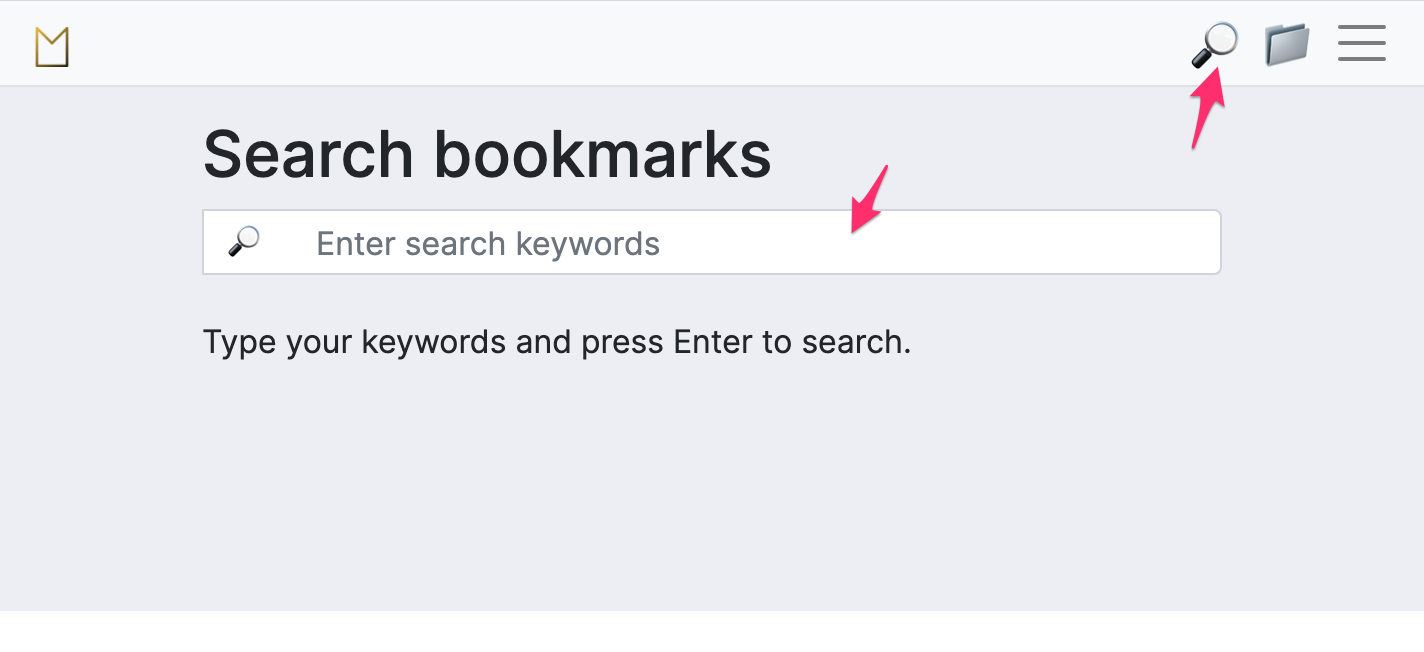 Back to top
---
Questions? Feedback?
Just email me at farez@markfolder.com or contact me on Twitter @farez.
Hope you enjoy using Markfolder!
-- Farez, creator of Markfolder
Back to top