New: Bookmarks now load faster!
7 March 2023
I know some of you store A LOT of bookmarks into a single folder. This used to cause folders to load really slowly.
Not anymore! All folders now show the first dozen of your bookmarks instantly. And as you scroll, more bookmarks will load.
Just like Twitter.
Enjoy browsing your bookmarks in the fast lane!
NEW: Bookmark to any folder via DM!
9 March 2022
New PRO feature:
Bookmark to any folder via DM!
Just type in the name of the folder when bookmarking via DM (spaces allowed).
Prefix with a '+' to create the folder.
Upgrade to PRO to enjoy this feature. Head over to your My Account page to upgrade.
Have a look at this tweet for more details:
🚀 New PRO feature:

Bookmark to any folder via DM!

- Just type in the name of the folder when bookmarking via DM (spaces allowed).
- Prefix with a '+' to create the folder.

Upgrade to PRO to enjoy this feature. pic.twitter.com/qcCo71ux8c

— Markfolder Tweet Bookmarker (@markfolder) March 9, 2022
NEW: Bookmark from anywhere!
8 September 2021
You can now bookmark from any Twitter app on any device by sharing the tweet in a private message to @markfolder.
Have a look at this tweet for more details:
🥬 FRESH 🥕

Now you can bookmark from any device or app by sharing the tweet to @markfolder in a direct message.

Here's how... pic.twitter.com/GDIEHkBj1h

— Markfolder Tweet Bookmarker (@markfolder) September 8, 2021
NEW: Move bookmark + new look links
18 August 2021
Hello again! Here are a couple of updates:
1. New look bookmark links
If you're using markfolder.com on desktop/laptop, the "three dots" menu on each bookmark is now gone. Instead, now you can just hover your mouse over a bookmark and access the same links gain. That's 50% fewer clicks!

If you're using markfolder.com on a tablet or phone, then you will still see the "three dots" menu, but it's been moved to the bottom right of the bookmark. This makes it easier to reach with your thumb, and it looks tidier. Tap on it to open up the usual bookmark links.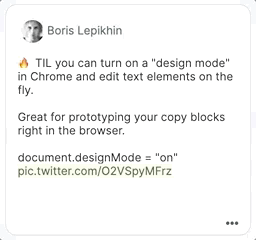 2. Move bookmark to new folder
You can now move a bookmark to a different or new folder. Just hover over a bookmark (or tap the three dots menu on mobile) to access the bookmark links, then click on the "Move" button.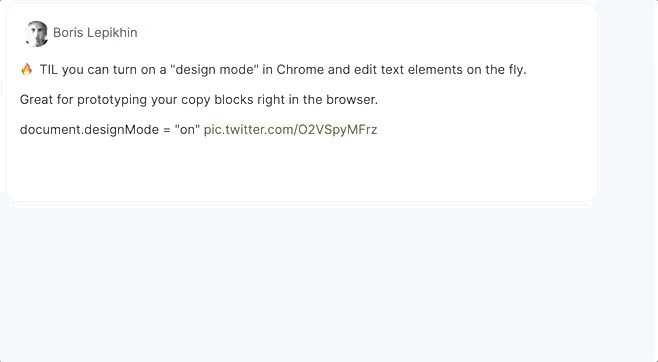 Let me know what you think!
Farez (@farez).
Search and Markfolder Pro are here!
16 June 2021
With great pleasure, I'd like to announce the arrival of Markfolder Pro, the premium version of Markfolder that will unlock so much more for your Twitter curation and organisation.
The first Pro feature, Keyword Search, is live! Use it to find bookmarks containing specific keywords, and it will return results from all folders.
Other changes
1. New navigation items
There is a new "My Account" menu item that'll take you to a new page with a few details about your account.
And the new Search 🔎 icon will take you to the new Search feature, available to Pro users.
2. Small change in the T&C
There is also a small change in our Terms of Service. Please review the Payment, Refunds, and Plan Changes section and make sure you're happy with it.
-- @farez
New menu layout
16 June 2021
A new and neater menu layout
All your folders can now be found by clicking the folder 📁 icon in the menu bar.
Everything else have now moved into the single dropdown menu button on the top right (or bottom-right on mobile devices) to keep things neat and tidy.
New grid layout, and a visual refresh
12 May 2021
What's new? Lots!
Bye bye baby blue
That blue gradient background has been with us since we launched 8 months ago, but to be honest, it was a bit naff. So here's a newer, more chilled out, background colour called "Cultured". Yep, that's its actual name. Like it?
On some browsers, you may have to clear the browser cache to see this change. If you're still seeing the blue gradient backgorund, please clear your browser's cache.
(See cache clearing instructions for Chrome/Brave and Firefox).
Grid view!
This is the big one! You can now view your bookmarks as a list or as a grid! The Grid View is perfect for viewing colelctions of images, but it's available for all your bookmarked tweets.
To view your bookmarks in Grid View, just click on this icon under the folder title: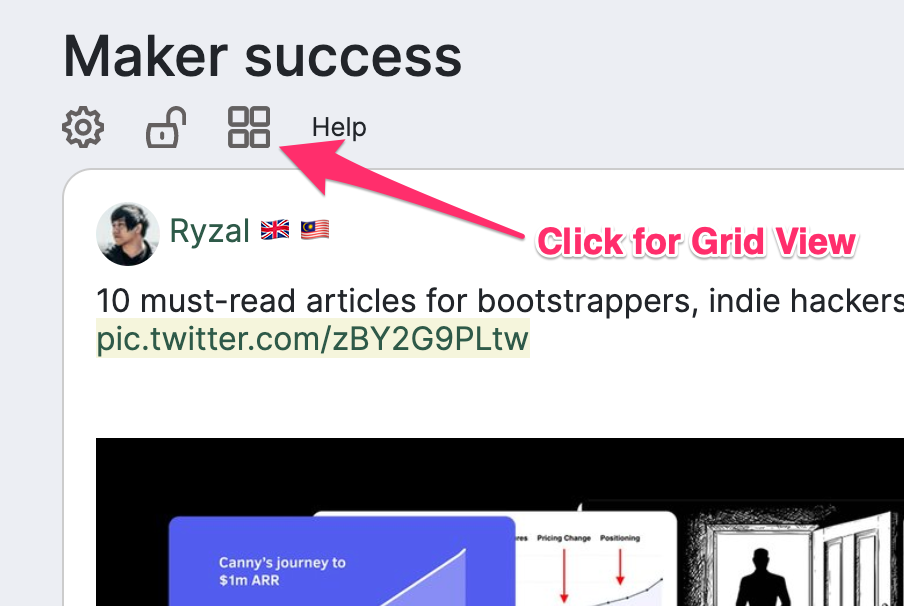 Markfolder remembers the current view for each folder, so every time you come back to the folder, it will display your bookmarks in the latest view layout you chose for it.
Grid View is not currently available when viewing on mobile phones, but please do let me know if you think it should also be enabled for mobile viewing.
New mavigation menu
There's now a new menu, and here's how it looks, depending on which device you're viewing it on. To get to the page with all your folders, just click on "My Folders" in the menu.
On desktop, the menu is shown right at the top:

On tablet, access the menu under the "burger" menu icon (the 3 horizontal lines):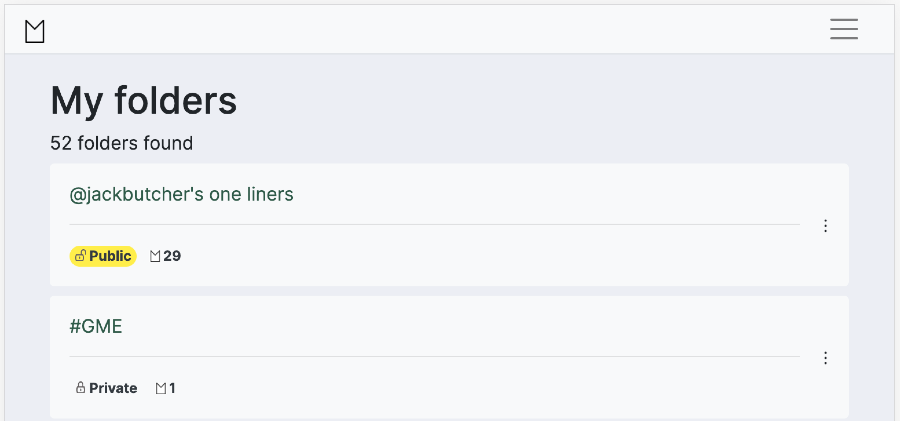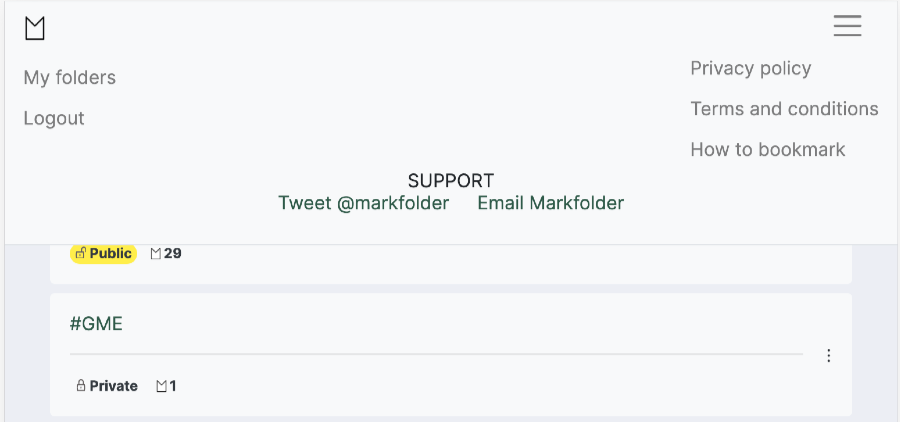 On mobile, it's at the bottom of the screen: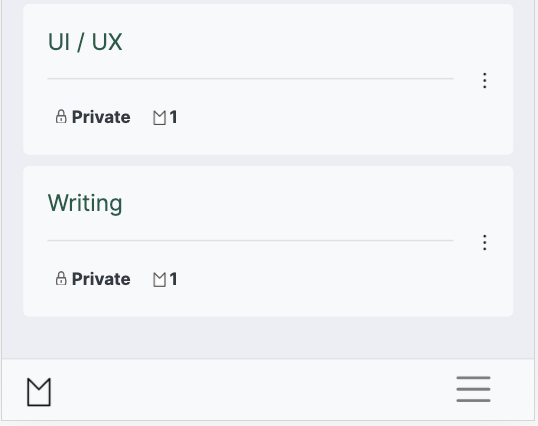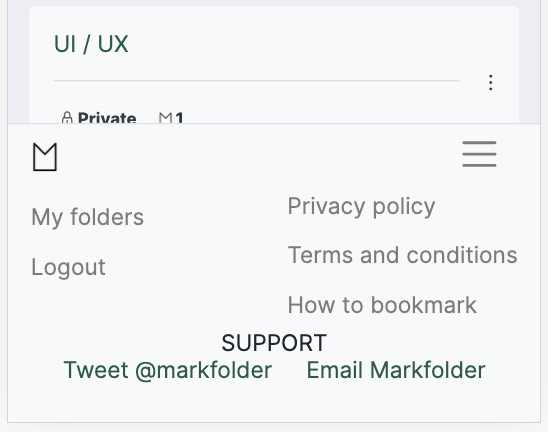 Folder actions have been reorganised
The actions on folders have also been slightly rearranged. Under the folder name, you'll see these icons:

Here's what they are for:

Change the folder's title.

Make folder public or private.

Change the layout to grid or rows (available on larger screens only).
If you forget what they're for, just tap the "Help" link to display the explanations again.
Images are now in a grid
If the bookmarked tweet contains images, all images are now shown in a 2x2 grid. This prevents large images from taking up the whole screen, and it makes the grid view a bit neater.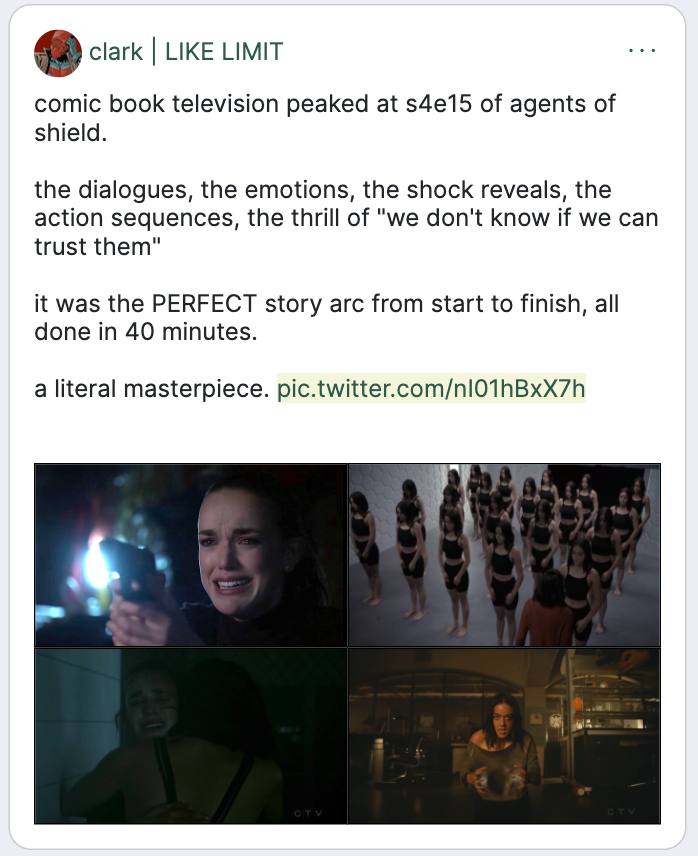 Bookmark actions moved to top right
And finally, all the bookmark info and the delete link have been moved into the "..." menu at the top right of the bookmark. This makes bookmarks much neater while viewing and browsing them.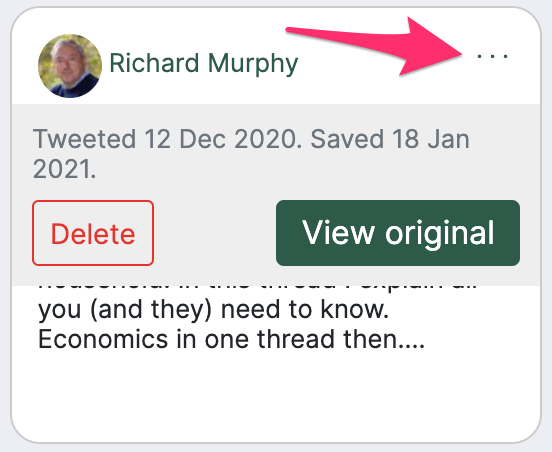 Phew, that's quite a bit of new stuff. What do you think? Like it or hate it, please let me know by email or on Twitter!
New: Change your folder title
11 February 2021
Well, finally, you can change your folder title!
In your folder, under your folder title, click on the new "Gear" icon to open up the folder settings form.

Change the name of the folder title and then click on the "Update folder settings" button.

Refresh the page to see the new folder title. That's it!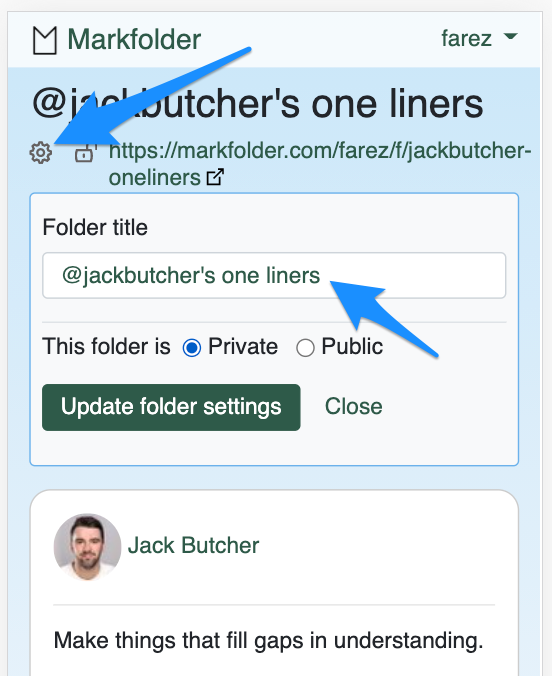 New: Folder settings form and easy access to the public URL
11 February 2021
You will notice that in your folders, the "padlock" icon has moved down under the folder title, next to a new "gear" icon to change folder settings.
Your folder privacy is now changeable inside this new settings form.
On public folders, you will also notice that the public address (link) for the folder is now displayed under the folder title. So no need to open up the form if you just need to get to the folder's public link. Much quicker!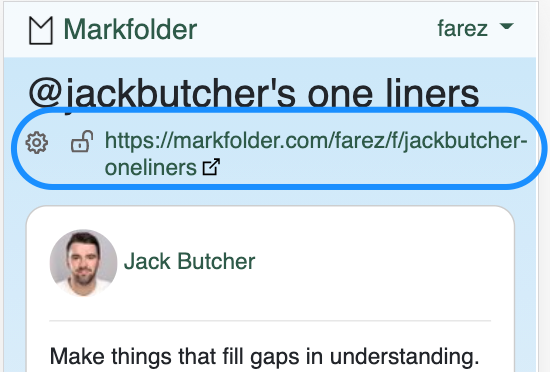 New: PUBLIC FOLDERS!
9 February 2021
Exciting news! You can now share your bookmarked tweets with public folders!
Why is this exciting? Because this makes it really easy now for you to curate and share interesting tweets with your friends, or the world! Here are some things you can do with public folders:
Collect tweets for research that you can share with your colleagues.
Put all shout-outs that mention you into one folder that you can link to from your website.
Bookmark testimonials people make about you on Twitter and have it linked from your LinkedIn profile.
Have a Pinterest-like collection about anything, and share it with people.
Collect inspiring quotes that you and others can refer back to from time to time.
Here's one I made earlier: Lego Inspiration Public Folder
How to create a public folder
Easy. You can make any of your folders public by following these steps:
Go to https://markfolder.com/folders to see all your folders. Click into the folder that you want to make public.

In the folder, you will notice a new "lock" icon to the right of the folder title. By default all folders are private, so you should see a "Locked" icon that looks like this:

Click on the lock icon to reveal the folder's privacy settings, and then under "This folder is", select "Public":

You will now see the public folder settings. Provide a public folder name for your public folder. This name will be part of the web address (URL) of your public folder's sharable link. Only letters, dashes and underscores are allowed in the folder name. Click "Update folder privacy" when you're done.

You will also see the public folder address under the folder name. The link will only work after you click "Update folder privacy". Share this address. You can also click on this address to open the public folder in a new tab.

You will also notice that the "lock" icon next to the folder title is "unlocked", indicating that the folder is public.

Now when you're back to your folders listing, you will notice that your new public folder will be marked as "public" to make it easier for you to identify it.

You will also notice the folders listing has a new layout, with the folder name on top and the folder's privacy and number of bookmarks in each folder below the title.

Lastly, I have removed the folder selector dropdown from the top of the page. Now when you need to move from one folder to another, just click in the menu under your name (or under the menu link) and then click on "Folders". Or just go to https://markfolder.com/folders.

The "Bookmarks" link in the menu have also been removed as you can access your bookmarks through the Folders page. These are changes to make Markfolder much cleaner and simpler to use.
I am looking forward to seeing all the interesting and exciting public collections you create.
Feel free to share them on Twitter by replying to @markfolder with your public folder links and I will be happy to retweet (as long as they are in line with Twitter's content policy of course).
As always, I would love to hear what you think about this feature and how you're using Markfolder in general. Good AND bad! Email your comments to farez@markfolder.com.
Thank you.
Farez (@farez), Creator of Markfolder.
PS: Coming soon: more customisation options, including changing your username and folder titles.