New: Change your folder title
11 February 2021
Well, finally, you can change your folder title!
In your folder, under your folder title, click on the new "Gear" icon to open up the folder settings form.

Change the name of the folder title and then click on the "Update folder settings" button.

Refresh the page to see the new folder title. That's it!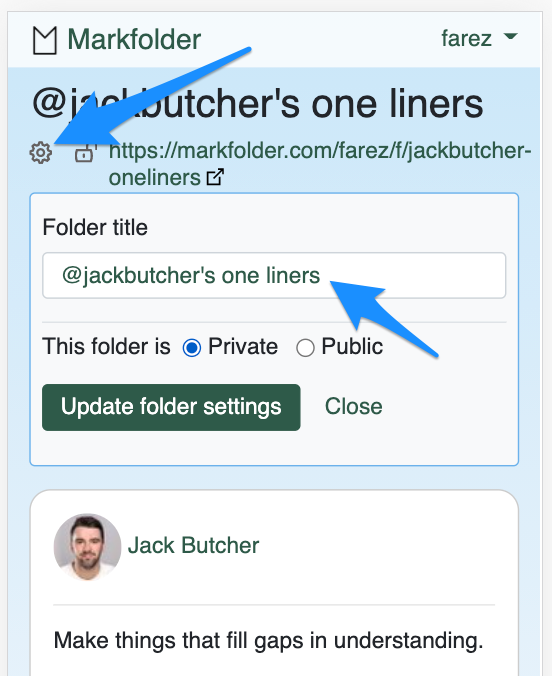 New: Folder settings form and easy access to the public URL
11 February 2021
You will notice that in your folders, the "padlock" icon has moved down under the folder title, next to a new "gear" icon to change folder settings.
Your folder privacy is now changeable inside this new settings form.
On public folders, you will also notice that the public address (link) for the folder is now displayed under the folder title. So no need to open up the form if you just need to get to the folder's public link. Much quicker!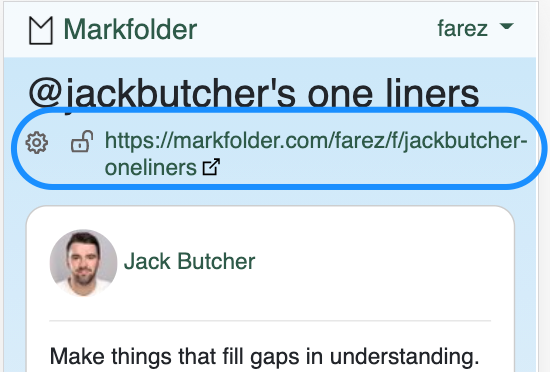 New: PUBLIC FOLDERS!
9 February 2021
Exciting news! You can now share your bookmarked tweets with public folders!
Why is this exciting? Because this makes it really easy now for you to curate and share interesting tweets with your friends, or the world! Here are some things you can do with public folders:
Collect tweets for research that you can share with your colleagues.
Put all shout-outs that mention you into one folder that you can link to from your website.
Bookmark testimonials people make about you on Twitter and have it linked from your LinkedIn profile.
Have a Pinterest-like collection about anything, and share it with people.
Collect inspiring quotes that you and others can refer back to from time to time.
Here's one I made earlier: Lego Inspiration Public Folder
How to create a public folder
Easy. You can make any of your folders public by following these steps:
Go to https://markfolder.com/folders to see all your folders. Click into the folder that you want to make public.

In the folder, you will notice a new "lock" icon to the right of the folder title. By default all folders are private, so you should see a "Locked" icon that looks like this:

Click on the lock icon to reveal the folder's privacy settings, and then under "This folder is", select "Public":

You will now see the public folder settings. Provide a public folder name for your public folder. This name will be part of the web address (URL) of your public folder's sharable link. Only letters, dashes and underscores are allowed in the folder name. Click "Update folder privacy" when you're done.

You will also see the public folder address under the folder name. The link will only work after you click "Update folder privacy". Share this address. You can also click on this address to open the public folder in a new tab.

You will also notice that the "lock" icon next to the folder title is "unlocked", indicating that the folder is public.

Now when you're back to your folders listing, you will notice that your new public folder will be marked as "public" to make it easier for you to identify it.

You will also notice the folders listing has a new layout, with the folder name on top and the folder's privacy and number of bookmarks in each folder below the title.

Lastly, I have removed the folder selector dropdown from the top of the page. Now when you need to move from one folder to another, just click in the menu under your name (or under the menu link) and then click on "Folders". Or just go to https://markfolder.com/folders.

The "Bookmarks" link in the menu have also been removed as you can access your bookmarks through the Folders page. These are changes to make Markfolder much cleaner and simpler to use.
I am looking forward to seeing all the interesting and exciting public collections you create.
Feel free to share them on Twitter by replying to @markfolder with your public folder links and I will be happy to retweet (as long as they are in line with Twitter's content policy of course).
As always, I would love to hear what you think about this feature and how you're using Markfolder in general. Good AND bad! Email your comments to farez@markfolder.com.
Thank you.
Farez (@farez), Creator of Markfolder.
PS: Coming soon: more customisation options, including changing your username and folder titles.